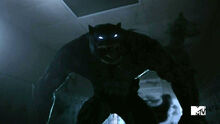 The Beast of Gévaudan (French: La Bête du Gévaudan; IPA: [la bɛt dy ʒevodɑ̃], Occitan: La Bèstia de Gavaudan) is the historical name associated with the man-eating gray wolf, dog or wolfdog which terrorized the former province of Gévaudan (modern-day département of Lozèreand part of Haute-Loire), in the Margeride Mountains in south-central France between 1764 and 1767.[2] The attacks, which covered an area stretching 90 by 80 kilometres (56 by 50 mi), were said to have been committed by a beast or beasts that had formidable teeth and immense tails according to contemporary eyewitnesses.
Victims were often killed by having their throats torn out. The Kingdom of France used a considerable amount of manpower and money to hunt the animals; including the resources of several nobles, soldiers, civilians, and a number of royal huntsmen.[2]
The number of victims differs according to sources. In 1987, one study estimated there had been 210 attacks; resulting in 113 deaths and 49 injuries; 98 of the victims killed were partly eaten.[2] However, other sources claim it killed between 60 and 100 adults and children, as well injuring more than 30. 
Final attacks Edit
The killing of the creature that eventually marked the end of the attacks is credited to a local hunter named Jean Chastel, who shot it during a hunt organized by a local nobleman, the Marquis d'Apcher, on June 19, 1767. Writers later introduced the idea that Chastel shot the creature with a blessed silver bullet of his own manufacture and upon being opened, the animal's stomach was shown to contain human remains.[4]